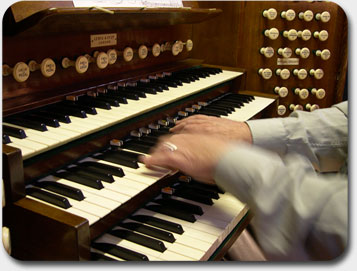 Stanley on the organ at Kelvingrove Art Gallery and Museum, Glasgow (at one of their
free lunch-time promenade recitals
).
These recordings include music sung at Sunday services, weddings and funerals in Govan Old Parish Church, Glasgow.
In his colourful arrangements, Stanley Thomson calls upon a wealth of practical experience to explore the style and mood of each song. The blend of voice and organ is further enhanced by the Church's excellent acoustics. The organ, a gift of the widow of one the great Govan shipbuilders, John Elder, was built by Brindley & Foster in 1888.
Govan Old Parish Church (St Constantine's) is situated on the site of an early medieval church and graveyard on the south bank of the River Clyde. Built during the ministry of Dr George MacLeod (of the Iona Community), the present church houses a notable collection of ninth and tenth century carved stones including cross-slabs and hogback gravestones. Sadly, Sunday services at Govan Old Parish Church have ceased since these recordings were made. Visit the
Friends of Govan Old website
for more information.